The Ancient Art of Paper and Fabric Marbling, by Galen Berry. Marbling supplies, classes, and information.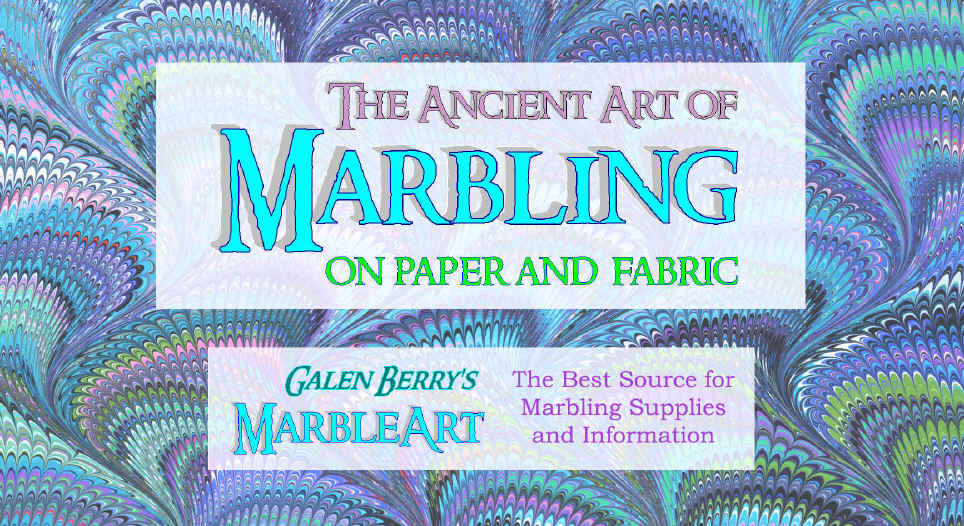 Click on buttons below for more information:




Click here to see »

« over 100 samples
All the supplies you need »

« to do your own marbling!



NEW!! See a selection of my marbled paper patterns on YouTube!
Click here.

The best way to teach yourself the art of marbling -- MarbleArt Marbling Kits: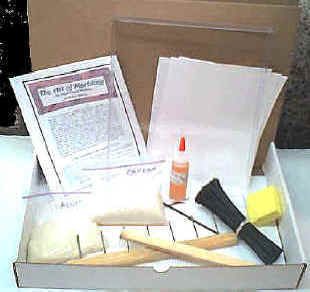 Contains everything you need to learn marbling, except the paints. (Paints are sold separately -- order whichever colors you want from the list of Marbling Paints.)
These kits are great for those who are just starting to marble -- yes, you can teach yourself! The easy-to-follow directions will soon have you making your own beautiful marbled papers. It's easier than you think -- anyone can marble!

MarbleArt Basic Marbling Kit .........................$59.00
MarbleArt Deluxe Marbling Kit ......................$79.00

For more information about the kits,
go to Marbling Supplies, then scroll to bottom of page.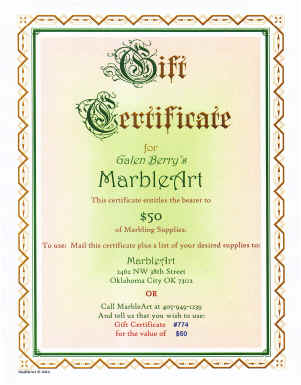 New! Gift Certificates are available.
You can order gift certificates for marbling supplies, in any amount that you wish.
Just call us or write. You can pay by credit card or PayPal.
We will then mail you the gift certificate, to give to whomever you wish;
or we can email it to you, for you to print out from your own computer.